Procalcitonin (PCT), the biomarker of choice to aid diagnosis of sepsis
Radiometer has developed the easy-to-use AQT90 FLEX procalcitonin assay, an important aid to timely diagnosis sepsis. Sepsis is a serious and sometimes life-threatening condition that is responsible for the deaths of more patients than AIDS, prostate and breast cancer combined [1]. Procalcitonin (PCT), normally present in the blood at a very low level, and is released in larger amounts in response to an infection, thereby acting as a risk indicator for sepsis. With a negative predictive value above 95 %, procalcitonin is widely acknowledged as the most sensitive biomarker to aid in the diagnosis of bacterial sepsis [2].
The added value of point-of-care testing
Despite strict guidelines for the implementation of early and effective therapies which have improved the chance of survival, the mortality and morbidity rates associated with sepsis remain higher than any other infection-related condition [3]. Radiometer's rapid, acute care AQT90 FLEX procalcitonin test – an in vitro diagnostic assay for the quantitative determination of procalcitonin in EDTA or lithium-heparin whole blood or plasma specimens, either at the point of patient care or in a laboratory setting – is an important tool for acute and intensive care professionals, aiding the detection of sepsis. This enables clinicians to start antibiotic treatment undelayed and to demonstrate the efficacy of the chosen therapy in reducing a patient's septic state.
When procalcitonin levels are elevated and sepsis is suspected but not confirmed, antibiotic treatment should be considered following analysis of a blood sample to identify the presence of any blood-born micro-organisms. Typically, this will involve blood culture, a time-consuming procedure that may take several days and often does not reflect systemic inflammation or the onset of organ failure [2]. In contrast, Radiometer's AQT90 FLEX procalcitonin assay delivers results in less than 21 minutes, enabling clinicians to swiftly optimize the patient's treatment.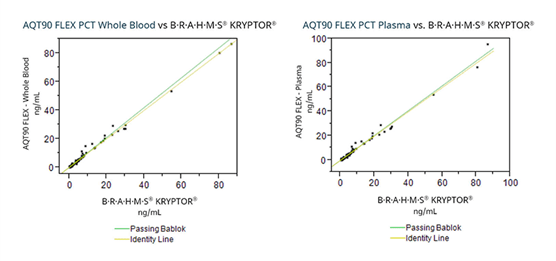 Key benefits of the AQT90 FLEX procalcitonin assay include:
laboratory quality, quantitative determination of PCT at the point of patient care
results available in less than 21 minutes
improved sample turnaround times
suitable for whole blood – no prehandling required – or plasma samples
excellent agreement with blood culture
high correlation with other commercially available PCT assay
Riedel S. et al. Procalcitonin as a Marker for the Detection of Bacteremia
and Sepsis in the Emergency Department . Am J Clin Pathol 2011;135:182-189
Levy MM, Dellinger RP, Townsend SR, et al. The Surviving Sepsis Campaign: results of an international guideline-based performance improvement program targeting severe sepsis. Intensive Care Med 2010;36:222–31